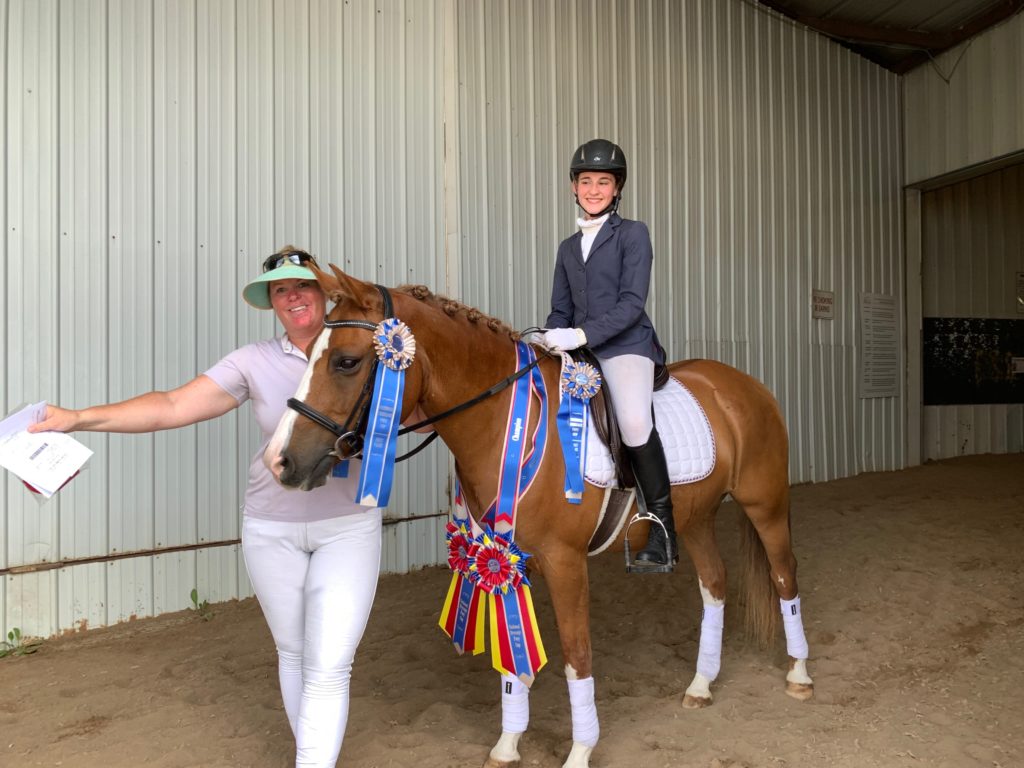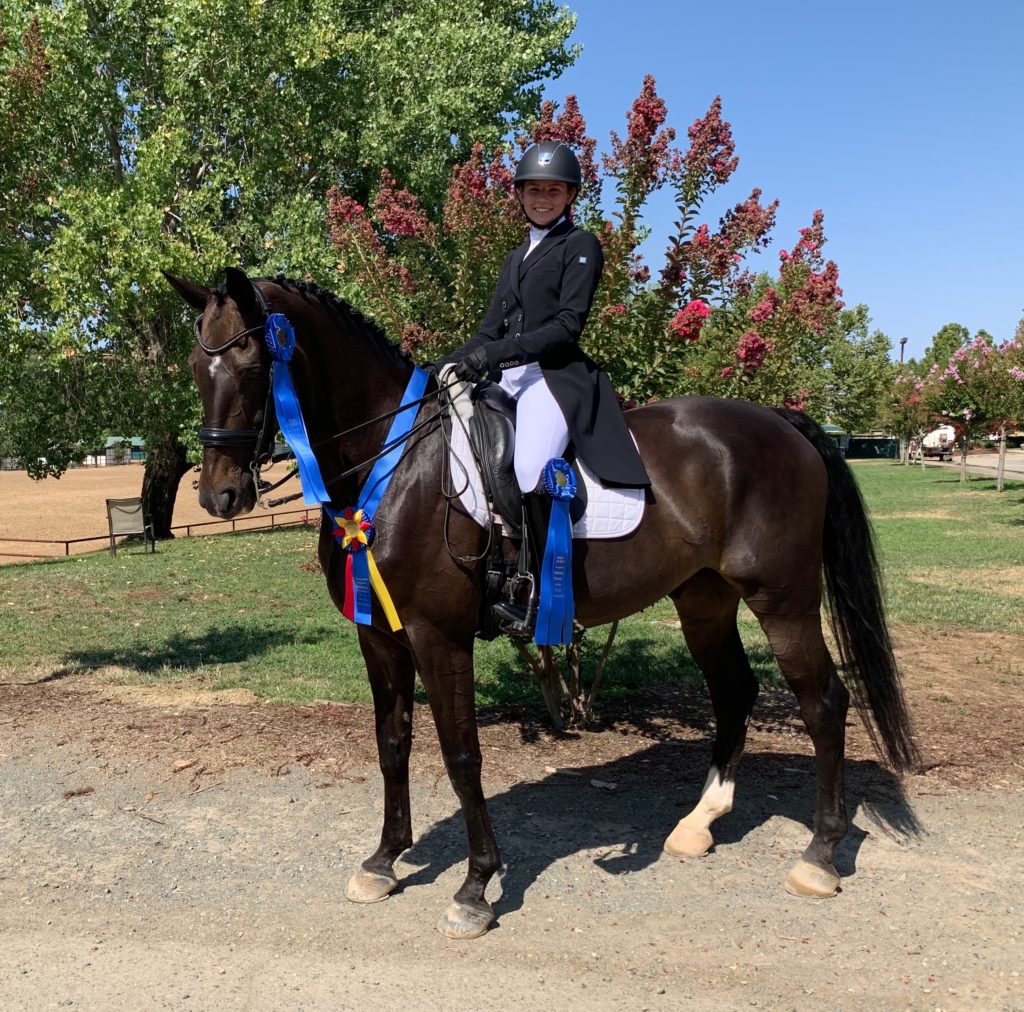 I started teaching Alyssa Buenting around 2016 on her pony Barney. Since then we found her a new partner Del Mar, he was confirmed at Third Level at the time, and Alyssa has done the work to train him to Prix St George, and win several championships in the process. Since 2018 she has won many awards both locally and regionally from Second Level to Prix St George in the Junior Young Rider division. She has also earned her USDF Bronze and Silver medals, as well as the CDS Rubi and Sapphire Gem awards.
"Ive known Stacee Collier personally since 2015 as a member of the Sierra Nevada Chapter of CDS. Prior to that time I knew of her professional standing as a student of J Ashton Moore. When I had to change dressage trainers a year ago (because my trainer was having a baby) Stacee was recommended. She has done an OUTSTANDING job in taking my Fourth Level gelding to the FEI levels. I have been so impressed with her training that I turned my three year old KWPN filly to start under saddle. Stacee is doing a marvelous job with a well bred, very talented, but very sensitive youngster. Stacee has also fine tuned my riding, helping me to learn how to use and understand the biomechanics of my body with that of my horse. And most importantly, Stacee understands and applies her vast experience as a Grand Prix rider to develop a happy cooperate relationship with the horses she rides and trains, and the riders she assists in developing the same relationship with their horses."
Nancy McCue Smith and May Hanks Pintado (aka Scout)
"Dillon and I have enjoyed working with Stacee over the last few years. Her teaching style is a nice balance of seat and position and horse biomechanics. Stacee has helped Dillon and I move up the levels quickly while having a lot of fun in the show ring and on trails. We wish her the best in her new venture."
Andrea Vollersen and Dillon Daily
"Stacee offers correct, concise, and effective training for both horse and rider. Her passion for Dressage is evident in her riding and training. She continues to help me meet my goals and achieve a greater level of connection with my horse. Her emphasis on biomechanics has increased my effectiveness and confidence as a rider"
Avery Roll and Kahuna (Aka Klyde)
"I have been training with Stacee for the past 2 years at Meadow View Farms. When I first started training with her I had just set some new goals with myself of becoming a more balanced and effective rider. I found that Stacee was able to get me on track of accomplishing those goals.
Within the first couple of lessons I found that I really liked her ability to verbalize and clarify in a way that helped me grasp the concepts of the lessons. My aids became more quiet and more effective, my horse became more responsive and our relationship has certainly improved.
Stacee has a lot of show experience and was able to school us at one of our recent local shows. Her knowledge of the dressage tests was super helpful and we were able to do very well at our last show; 2 blue ribbons and high point over the 2 day local show.
We are going to miss her but know she will be a great asset in her new training adventure."
Theresa Moscowitz and Demetri
"I became a student of Stacee's some three years ago. I was searching for an instructor that could instruct me in classical dressage. Through a mutual friend I was introduced to Stacee Collier and so my instruction began in classical dressage.
Stacee taught me self carriage in myself as well as my horse. This is the ability to carry yourself as the horse carries himself. Neither of you depending on each other for support, either by using the rein or the horse hanging on you. Her instruction of bio-mechanics guides the rider to a deep understanding of how a horse moves under a rider and how to influence that movement toward a desired outcome. Through Stacee's bio mechanic instruction I acquired the ability to ride with balance so that my horse executed each movement with clarity, elasticity and suppleness. (What every judge looks for)
I can not say enough of her ability to teach a student in the art of riding dressage. Step by step you learn the intricacies of riding this most difficult equine sport and have fun while you learn."
Loye Jaeger and Gigante
Joan Wright and Tristan came to me with a goal of earning her Gold Medal, so far we have gotten her one score toward that goal. The Grand Prix is not easy. Joan came to me as an already accomplished FEI rider thru Intermediare 1, she just needed to learn to ride the harder elements of the Grand Prix Piaffe/Passage, one tempis, and finding the quick flow of one movement to the next. Unfortunately at the age of 21 years old Tristan passed away. He will be deeply missed.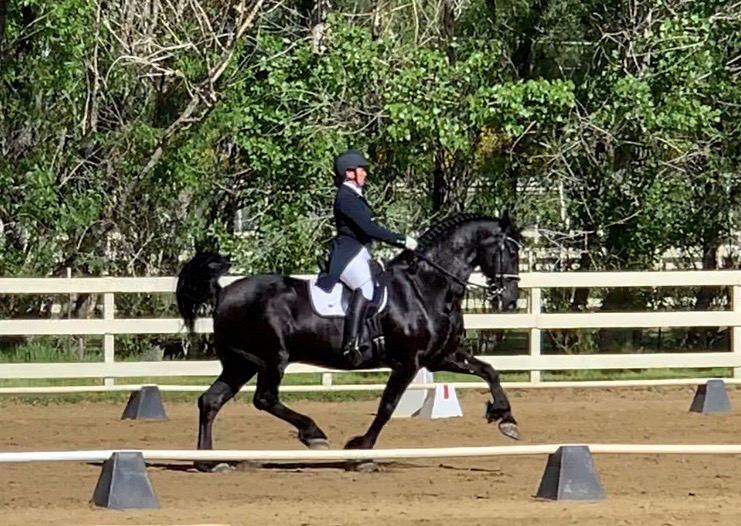 Elise Bishop and Rintjse were an amazing pair. Elise moved to Gardnerville, NV to train for a Friesian breeding farm, when she took over the ride on Ritnjse, he was a tricking guy that had been shown to Fourth Level. Elise and I worked together to get him to Intermediare 1 successfully showing to that level and Elise earning her Silver Medal. We were working toward the Grand Prix, when a new job opportunity took her to a different state.